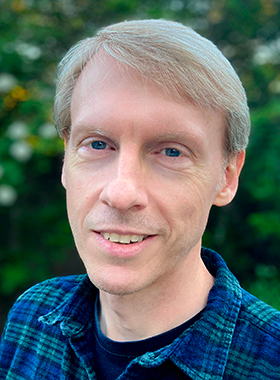 Alex Lubertozzi was born in Chicago and raised in south suburban Park Forest. After high school, he put off college to backpack across Europe to the horror of his parents, only to come crawling back home once he ran out of money. He did eventually graduate from the University of Illinois with a master's degree in advertising. He never did work in advertising, however, realizing a bit late that he never particularly liked advertising (or work).
Early in his career, Alex contributed articles to various magazines and worked as an editor and designer in Chicago. While employed at a nonprofit foundation serving people with disabilities, he helped launch a book publishing division focused on disability issues and management/leadership. During this time, he met the love of his life, Helen Martch, and married her after dating for entirely too long (according to her father).
In 2000 Alex became an acquiring editor at Sourcebooks, a Chicago area book publisher, where he managed their mixed-media imprint and co-managed the trade line of general nonfiction and fiction. In addition to editing a wide range of books (including Poetry Speaks, The Second City, The Trials of Lenny Bruce, The Diamond Conspiracy, and My Fellow Americans), he coauthored The Complete War of the Worlds (2001, with Brian Holmsten) and World War II on the Air (2003, with Mark Bernstein).
Alex left Sourcebooks shortly before the birth of his son, Nick, in 2003 and has been a freelance writer, editor, and designer ever since. In 2008 he cofounded Top Five Books with the historical mystery Murder Bay and has overseen the release of a small number of novels and nonfiction books, including a bestselling line of illustrated great works, Top Five Classics, in ebook and print editions. He has written for various books and periodicals and has published his short fiction in The Arcanist and Sundial Magazine.
Alex lives in the Chicago area with his wife and son. Any Other World Will Do is his first novel.
You can find Alex on Mastodon at @alexlubertozzi@mastodon.social.