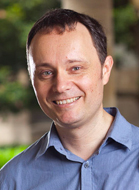 Andrei Baltakmens was born in Christchurch, the descendant of parents and grandparents who had emigrated to New Zealand from Latvia in the aftermath of World War II. Andrei studied English literature at the University of Canterbury in Christchurch. After completing a master's degree that explored the development of detective fiction, beginning with Charles Dickens's introduction of mystery and the police detective, Inspector Bucket, in Bleak House, he went on to a Ph.D. that focused on the function of mystery, and particularly urban mysteries, in the later works of Dickens.
In 1996 he published The Battleship Regal with Hazard Press, his first novel, and one of only a handful of science fiction works to be published in New Zealand. Since then, he has published short fiction in various New Zealand literary journals and a story in the collection of emerging New Zealand male writers, Boys' Own Stories (2001).
After graduating, he worked as an information technology trainer and technical writer, while occasionally presenting classes for the continuing education program at the University of Canterbury on topics ranging from academic writing to J.R.R. Tolkien's literary achievement.
He was married in 2003, and a few months afterward his wife secured a scholarship to study theater at Cornell University in Ithaca, New York. They lived there for five years, where Andrei worked for a semester as an adjunct instructor of composition at Keuka College and then as an information technology trainer for Cornell. At this time he began The Raven's Seal, inspired by the Gothic architecture of the Cornell campus and his interest in urban mysteries, Dickens, and the creative possibilities of an eighteenth-century prison setting.
In 2009 Andrei and his wife relocated to Australia, where his wife is a lecturer and he now works as an editor for the University of Queensland and pursues graduate studies in the Creative Writing program. They live in Brisbane with their young son.
Andrei is planning a new mystery, A Hangman for Ghosts, which will feature Victorian prison hulks and transported convicts.
Visit Andrei at his blog, "Displaced Pieces."