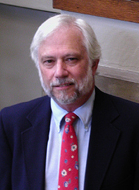 David M. Sokol has had a 40-year career as a professor of art history and has taught at the University of Illinois at Chicago since 1971. He chaired the department of art history for 17 years, becoming professor emeritus in 2002.
In addition to teaching and writing on various topics in American and European art and architecture, Sokol has published articles and reviews on Frank Lloyd Wright and Unity Temple. He is the author of Oak Park, Illinois: Continuity and Change and coauthor of A Guide to Oak Park's Frank Lloyd Wright and Prairie School Historic District.
He served on the board of directors for the Unity Temple Restoration Foundation and the Frank Lloyd Wright Home and Studio Foundation, and currently serves on the Illinois Historic Sites Advisory Council.
Sokol lives in Oak Park, Illinois.