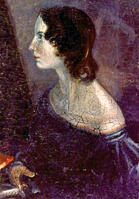 Emily Jane Brontë was born on July 30, 1818, in the village of Thornton in Yorkshire, England, the fifth of six children born to Maria Branwell and Patrick Brontë, an Irish Anglican clergyman and poet. Emily was the fourth, and youngest, daughter in the family at the time she was born, but would be the second eldest of the sisters to survive into adulthood. At the age of two, her father moved the family—comprised of Emily's older sisters Maria, Elizabeth, and Charlotte, older brother Patrick (known as "Branwell"), and younger sister Anne—from Thornton to nearby Haworth, a rustic village in Yorkshire, to assume the post of perpetual curate at the local parsonage.
The hamlet, situated among the picturesque yet isolated North England moors, was typical of small towns of the era, lacking amenities like sewers and a reliably clean water supply, which inevitably led to outbreaks of disease. When Emily was just three, and only a year after moving to Haworth, on September 15, 1821, her mother, Maria, died after a long battle with cancer. The mother's sister, Elizabeth, known to the children as "Aunt Branwell," moved in with the family to help raise Emily, her four sisters, and brother Branwell. Despite the loss of their mother, the children thrived in their small-town environment, playing on the moors that surrounded the parsonage, reading voraciously from their father's library, and making up stories and games with one another. The eldest daughter, Maria, took an influential role in the family after her mother's death, reading to her father and siblings from the pages of Blackwood's Magazine, directing her siblings in putting on plays, and encouraging their budding literary interests.
In August 1824, Maria and her sisters Elizabeth, Charlotte, and Emily were sent to the Clergy Daughter's School in Cowan Bridge, Lancashire. The boarding school's austere conditions were a drastic change of environment for the girls, and the two eldest, Maria and Elizabeth, contracted tuberculosis while there, in part due to the school's harsh treatment and unsanitary practices. Informed of Maria's illness in February 1825, Reverend Brontë immediately brought her back home, where she died in early May. He quickly removed Elizabeth, Charlotte, and Emily from the school, but Elizabeth was already ill and died at home in June. (Charlotte would later incorporate some of the details from their experience at Cowan Bridge into the Lowood School, which figures so prominently in Jane Eyre.)
Back home in Haworth, Emily was now one of four very creative and self-reliant children. They invented games, did needlework and embroidery, and entertained each other on the piano and with stories around the hearth at the parsonage, with Charlotte now taking on the role her eldest sister Maria had once played. In June 1826, when Branwell received the gift of some wooden soldiers from his father, all four siblings claimed a share of the toys. Each child picked a favorite soldier, giving him a name and constructing stories and adventures around each character. Branwell and Charlotte created for theirs the imaginary country of "Angria," around which the children built up a complex written mythology. But, by the time Emily was thirteen, she and Anne began writing poems and stories about their own invented island world of "Gondal." Some of the earliest examples of these were written in tiny handmade books in almost microscopic handwriting, as if the miniature soldiers had penned the stories themselves (some of these manuscripts still exist at the British Museum, although the only remnants of Emily's Gondal writing—a few poems—are from her mid-twenties). In short, the four siblings were busily preparing to become the literary and creative artists that all of them would later be.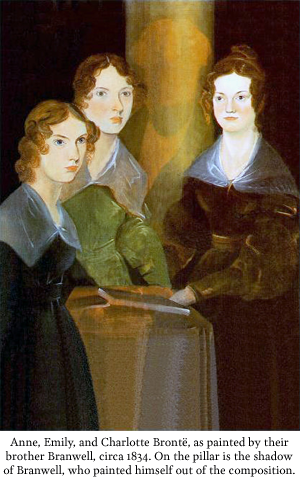 In 1831 Charlotte left to attend boarding school at Roe Head, near Mirfield (about eighteen miles from Haworth), returning home a year later to tutor her Emily and Anne. Charlotte returned to Roe Head School as a teacher in 1835, and Emily joined her there as a student but, homesick, returned to Haworth after only a few months. Anne went to Roe Head in her place. For two years, Emily stayed at home with Branwell, reading and writing poetry and learning French and German. In September 1838, Emily took a teaching position at Law Hill School near Halifax, working seventeen-hour days in harsh conditions. Detesting it, she began to starve herself (a recurring device for her whenever she was unhappy) and left after six months.
In 1842 Emily and Charlotte traveled to Brussels to study and work as instructors at the Pensionnat Héger under the tutelage of Constantin Héger. There they immersed themselves in French and German and studied literature with the goal of starting their own school someday. They returned to Haworth soon after, however, when their Aunt Branwell died in October. Charlotte returned alone to Brussels in January 1843.
While Charlotte studied in Belgium, Emily began taking an inventory of all the poetry she had composed, copying everything neatly into two notebooks: one titled "Gondal Poems," the other unlabeled. Upon Charlotte's return, the three sisters attempted to open their own school, but were unable to attract students to the remote area. The disappointment of this setback subsided somewhat in the fall of 1845 when Charlotte came across and read one of Emily's notebooks (as sisters sometimes will). Finding her sister's poetry to be uncommonly good, and unique among women poets, she urged her to publish them. Emily was not at all pleased by Charlotte's intrusion and at first demurred. Wanting to publish her own work and soon realizing that Anne was secretly writing poetry as well, Charlotte won Emily over to the idea of publishing her poetry, along with selections by herself and Anne. Agreeing to use the pseudonyms Currer, Ellis, and Acton Bell, they printed the collection at their own expense through the publisher Aylott and Jones in 1846. In choosing the ambiguous pen names, the three kept their initials while obscuring their gender—an attempt to prevent their sex from being the basis upon which their work would be judged. Though Poems by Currer, Ellis, and Acton Bell did receive some favorable notices, the book did not sell—in fact, in the first year it garnered more reviews (three) than sales (two).
Building on the occasion of their literary debut and slight critical success, the sisters began to pursue publication of the novels on which they had each been working. At first, the idea was to package the three as single volumes within a three-volume work. After much rejection of Charlotte's The Professor, Emily's Wuthering Heights, and Anne's Agnes Grey, the publisher Thomas Newby, though rejecting The Professor, agreed to print both Wuthering Heights and Agnes Grey if the authors agreed to help subsidize the small, 350-copy printing (of which only 250 were actually produced). Newby desired the usual three-volume format, thus requiring Emily to expand the original story of Heathcliff and Catherine to fit two of the three volumes—Agnes Grey being the third volume—which Emily did.
Shortly after being turned down by Newby, a glimmer of hope emerged for Charlotte, incongruously, in the form of yet another rejection. Though the publisher, Smith, Elder & Co., passed on The Professor, they did express interest in other works that "Currer Bell" might be working on, and which were long enough to be published in three volumes. Charlotte spent the next two weeks feverishly finishing her other novel, Jane Eyre, and submitted the manuscript to the publisher in August 1847. Six weeks later, the novel was released and enjoyed instant critical and commercial success. With the success of Jane Eyre in October, Newby rushed to get the other Bells' novels released in December 1847. The simultaneous release and notoriety of the three sisters' books drew more attention to the literary "Bells" and questions as to their identity and gender, as well as about whether they were three authors or one.
The next year Anne's second novel, The Tenant of Wildfell Hall, was published by Newby, and Charlotte was hard at work on her follow-up novel, Shirley, when the first of three tragedies struck the Brontë sisters. In September 1848, their brother, Branwell, who had never achieved his artistic ambitions as a painter or writer and had been disgraced after an affair with his employer's wife, died of chronic bronchitis and malnutrition exacerbated by heavy drinking and an opium addiction. Emily caught a bad cold during her brother's funeral and soon took ill with tuberculosis (consumption). Not trusting doctors, she refused all medical treatment until it was much too late. On December 19, 1848, barely able to speak, Emily whispered to Charlotte, "If you will send for a doctor, I will see him now." But within a couple of hours, she passed away.
In the three months since Branwell's death, Emily had wasted away to such an extent that the coffin she was buried in measured only sixteen inches across. She was laid to rest in the Church of St. Michael and All Angels family capsule in Haworth. She would never know how great an impact her one novel, Wuthering Heights, would have, and still has more than 160 years later, on English literature and popular culture around the world. Her poetry, although less well-known, is also still highly regarded. It is thought that Emily was at work on another novel at the time of her death, but it's uncertain as no manuscript evidence has survived.
After a prolonged battle against the same scourge, tuberculosis, Anne died while with Charlotte in the seaside resort of Scarborough on May 28, 1849. In 1850 Charlotte edited a new edition of Wuthering Heights and Agnes Grey, released by her publisher, Smith, Elder, correcting errors overlooked by Newby and adding a preface and biographical sketch of her sisters.
Published Works of the Brontë Sisters

Poems by Currer, Ellis, and Acton Bell (1846)
by Charlotte, Emily, and Anne Brontë
Jane Eyre

(1847) by Charlotte Brontë

Wuthering Heights

(1847) by Emily Brontë

Agnes Grey

(1847) by Anne Brontë

The Tenant of Wildfell Hall

(1848) by Anne Brontë

Shirley

(1849) by Charlotte Brontë

Villette

(1853) by Charlotte Brontë

The Professor

(1857, posthumous) by Charlotte Brontë

Emma (1860, unfinished, posthumously published in
Cornhill Magazine) by Charlotte Brontë