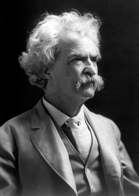 Samuel Langhorne Clemens, known familiarly by his pen name, Mark Twain, was born on November 30, 1835, in the town of Florida, Missouri, to Jane and John Marshall Clemens. The sixth of seven children, Twain was one of only four who survived to adulthood—the others being his older brother, Orion; older sister, Pamela; and younger brother, Henry.
When Twain was four years old, he and his family moved to Hannibal, Missouri, a port on the Mississippi River that later served as the basis for the fictional town of St. Petersburg in The Adventures of Tom Sawyer and The Adventures of Huckleberry Finn.
The Mississippi River exerted an inexorable pull on the young Twain, who, along with his boyhood mates, looked up to the men who plied the river on the relatively new invention of steamboats. The lure of life on the Mississippi as a steamboat pilot—who, more than the captain, had intimate knowledge of every turn of the river—would have a profound effect on him.
Missouri was a slave state bordering other slave states to the south, free states to the east and north, and U.S. territories to the west. As the Mississippi River influenced the geographic and cultural character of Hannibal, so did the existence of slavery. Twain, who grew up alongside enslaved black children, wrote in his autobiography, "We were comrades, and yet not comrades; color and condition interposed a subtle line which both parties were conscious of…" The iniquity he witnessed from a tender age would affect his thinking and inform the social commentary that made up such a significant part of his literary output, both nonfiction and fiction.
At the age of eleven, Twain's father, a local judge, died of pneumonia, leaving the family in dire financial straits. Twain left school shortly after, only having completed the fifth grade, and became a printer's apprentice. By 1851 he was working as a typesetter and also began publishing humorous articles in the Hannibal Journal, a newspaper owned by his brother Orion. Two years later, at the age of eighteen, Twain left Hannibal to take jobs as a printer in various cities, including New York, Philadelphia, St. Louis, and Cincinnati, continuing his self-education by visiting public libraries in the evenings after work.
In his early twenties, Twain left the newspaper business to pursue the life of a steamboat pilot. Paying Horace Bixby to take him on as an apprentice pilot, Twain spent two years learning the Mississippi River's currents, landmarks, reefs, submerged hazards, and shifting channels. It was during his training that he arranged a job for his younger brother, Henry, on the steamboat Pennsylvania. On June 13, 1858, the boat's boiler exploded, fatally injuring Henry, who died eight days later. Twain, who never forgave himself for his brother's death, nevertheless continued working as a river pilot until the Civil War broke out in 1861. Twain briefly enlisted in a unit on the Confederate side (Missouri, a slave state, was divided on the issue of secession but ultimately remained on the Union side throughout the war). Twain and some friends spent two weeks as Confederate volunteers before disbanding.
It was at this point that Twain struck out for the West, joining his older brother, Orion, in Nevada Territory, where Orion was secretary to Governor James W. Nye. From there, Twain and his brother traveled by stagecoach to Virginia City, Nevada, where Twain tried his hand at mining silver on the Comstock Lode. Though he failed at being a miner, he did find work writing for the local paper, the Territorial Enterprise. On February 3, 1863, he published in the Enterprise the first piece he ever wrote under the pen name "Mark Twain," a humorous travel essay titled "Letter from Carson." The pen name derived from his riverboat days, where the term indicated a river depth of two (twain) fathoms, or twelve feet—safe water for passage. When a line showed that depth, the riverman would cry out, "Mark twain," meaning the depth was two fathoms. Ironically, Twain wasn't the first person to use the pen name, as he later explained: "Mark Twain was the nom de plume of one Captain Isaiah Sellers, who used to write river news over it for the New Orleans Picayune. He died in 1863 and as he could no longer need that signature, I laid violent hands upon it without asking permission of the proprietor's remains."
Two years later, Twain had moved to San Francisco, where he wrote for numerous newspapers and periodicals, including The Californian, under the editorship of Bret Harte. In California, Twain further refined his writing style, crafting a more natural, conversational tone that reflected the American vernacular outside the more settled East, and which allowed him to deliver a humor free of artifice. It was during this time that he published the story that would make his pseudonym known nationwide. "The Celebrated Jumping Frog of Calaveras County," a humorous tall tale set in Angels Camp in California, appeared in the November 18, 1865, edition of the New York weekly The Saturday Press and was reprinted in newspapers around the country. The story, a brief, invented anecdote, introduced America to a voice that was utterly original and would, along with his adopted name, become instantly recognizable. The next year the Sacramento Union sent Twain to Hawaii (then known in the U.S. as the Sandwich Islands) to report on his travels there. His dispatches to the Union were well-received and formed the basis for his first lectures.
Twain's itinerant lifestyle and increasingly popular, humorous travel writing translated into a career continually on the move. Before leaving California in December 1866, Twain secured a job as a traveling correspondent for San Francisco's Daily Alta California, then promptly left for New York via Nicaragua, Key West, and Missouri, before turning around and setting sail for the Mediterranean on a six-month grand tour of Europe, North Africa, and the Holy Land aboard the Quaker City. His letters to the Alta California from, among other stops, Tangiers, Naples, Constantinople (Istanbul), and Jerusalam formed the basis of his second book (after The Celebrated Jumping Frog of Calaveras County and Other Sketches in 1867), The Innocents Abroad (1869).
The voyage led not only to Twain's first bestseller but to a chance meeting with fellow passenger Charles Langdon. Upon seeing a picture of Charles's sister, Olivia, Twain claims to have fallen in love at first sight. After returning home, Twain struck up a correspondence with Olivia Langdon over the course of the next year. Initially unsure about her new suitor, Olivia finally accepted Twain's second marriage proposal, and the two were married in Elmira, New York, in February 1870.
The two settled first in Buffalo, New York, and then in Hartford, Connecticut, where Twain began building them a house in 1873. Increasingly, Twain turned from journalism to the sort of fiction and narrative nonfiction for which he would become internationally famous and most remembered. While living in Hartford, Twain produced many of his best-loved books, including Roughing It (1872), The Adventures of Tom Sawyer (1876), A Tramp Abroad (1880), The Prince and the Pauper (1881), Life on the Mississippi (1883), The Adventures of Huckleberry Finn (1884), and A Connecticut Yankee in King Arthur's Court (1889). He and Olivia also had four children—a son, Langdon (born in 1870), who died of diptheria at nineteen months, and three daughters, Susy (1872), Clara (1874), and Jean (1880).
In addition to his prolific literary output, Twain was fascinated by science and technology, striking up a friendship with Nikola Tesla and patenting three inventions of his own, including a self-pasting scrapbook that sold more than 25,000 units. Despite his brilliance, however, when it came to financial decisions, Twain was either extremely unlucky or just plain bad. Investing $300,000 (the equivalent of $9 million in 2020) in an innovative new typesetting machine between 1880 and 1894, Twain lost it all when the device was rendered obsolete by the invention of Linotype. He also lost money with his publishing house, Charles L. Webster and Company (named for its business director, the husband of Twain's neice). Founded in 1884 after Twain's dissatisfaction with his previous publishers, Webster had great success with its first two books, Huckleberry Finn and Personal Memoirs of Ulysses S. Grant (1885). But subsequent publications were less successful, and Twain had to shutter the firm by 1894.
These and other financial setbacks led Twain and his family to close down their sprawling Hartford mansion and move to Europe in June 1891, shuttling between France, Italy, and Germany for the next four years, with Twain periodically returning to New York. Twain's writings and lectures helped repair his economic troubles, as did the friendship and business advice of his friend, Henry Rogers, a principal in Standard Oil. In July 1895 Twain, accompanied by Olivia and Clara, embarked on a year-long, worldwide lecture tour in order to pay off his creditors (even though his 1894 bankruptcy removed the obligation to do so). Susy and eleven-year-old Jean stayed behind with Olivia's family in Elmira. Thirteen months later, at the tail end of the tour and returning to London, Twain, Olivia, and Clara received news that Susy had died on August 18, 1896, in their Hartford home from spinal meningitis. She was twenty-four.
Twain and the rest of the family never returned to live in Hartford and spent four more years in Europe, mostly in London and Vienna. Though he continued to lecture and write—in addition to numerous essays and stories, he published Recollections of Joan of Arc in 1896 and Following the Equator in 1897, centered on the three months he spent in India during his round-the-world tour—the death of Susy began a period of deep depression for Twain.
Returning to the U.S. after 1900, Twain lived his later years in Manhattan. After Olivia's death in 1904, Twain began publishing chapters from his autobiography in the North American Review. He continued working on it, but intended most of it to be published long after his death, allowing him to speak his "whole frank mind." In addition to his withering remarks on some of his fellow authors (see "Fenimore Cooper's Literary Offenses," e.g.), Twain was outspoken on just about every important issue of his day and had continued to evolve in his attitudes as he grew older. He was an abolitionist and supporter of civil rights, women's suffrage, and labor unions. In his later years, after the Spanish-American War and the U.S.'s annexation of the Phillipines, he became a fervent anti-imperialist, serving as vice president of the American Anti-Imperialist League from 1901 until his death. Though his views on spiritual matters changed throughout his life, he was a confirmed skeptic when it came to organized religion, writing once, "If Christ were here now, there is one thing he would not be—a Christian." Still, he remained preoccupied with ideas of faith and considered his 1896 novel Personal Recollections of Joan of Arc to be his best book.
Twain's daughter Jean, who had been diagnosed with epilepsy in 1896, passed away in December 1909, leaving Clara as the only child who would survive him. In 1909, he was quoted as saying:
I came in with Halley's Comet in 1835 [Twain was born two weeks after the comet's closest approach]. It is coming again next year, and I expect to go out with it.…The Almighty has said, no doubt: "Now here are these two unaccountable freaks; they came in together, they must go out together."
Twain died of a heart attack on April 21, 1910, in Redding, Connecticut, a day after Halley's Comet soared past the Earth. He is buried at Woodlawn Cemetery in Elmira, New York, next to his wife, Olivia. His wife's family's plot is marked by a two-fathom-high monument placed there by his daughter, Clara. Their beloved Hartford home, which they sold in 1903, and over the years housed a school for boys and apartments, was bought in 1929 by the Friends of Hartford and gradually restored and reopened as a historic landmark, with a museum eventually built on the property, now known as the Mark Twain House & Museum. Mark Twain's complete Autobiography, which he'd indicated he didn't want published until a century after his death, was finally published by the University of California Press, starting with the 760-page Volume 1 released in 2010, followed by Volume 2 in 2013, and Volume 3 in 2015. Since 1998, the John F. Kennedy Center for the Performing Arts has awarded the Mark Twain Prize for American Humor, honoring such humorists as Richard Pryor, Steve Martin, Lily Tomlin, Carl Reiner, George Carlin, Neil Simon, Carol Burnett, Tina Fey, Eddie Murphy, and David Letterman. Twain's legacy remains as an original, unique voice in American humor and literature, remembered for his playful, ironic wit, biting social commentary, and plainspoken language, and with The Adventures of Huckleberry Finn, one of the truly great and unmistakably American novels.