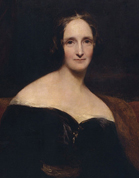 Mary Wollstonecraft Shelley (née Mary Wollstonecraft Godwin) was born in London on August 30, 1797, to William Godwin and Mary Wollstonecraft. Her mother, who died from a placental infection eleven days after Mary's birth, was a feminist philosopher and educator who had written A Vindication of the Rights of Woman (1792). Her father was a prominent journalist, novelist, and political philosopher, known for being an advocate of utilitarianism and the first modern proponent of anarchism.
With infant Mary and her older half-sister Fanny (from Wollstonecraft's previous relationship with the American Gilbert Imlay) to care for, William cast about for a companion to lighten the parenting load. After some difficulty, he found a willing partner in their next-door neighbor, Mary Jane Clairmont, a widow with two children of her own, Charles and Claire. Though young Mary would grow to detest her stepmother, as did most of her father's friends, the marriage was a happy one. William and Mary Jane Godwin founded a publishing company, M.J. Godwin, putting out children's books and other educational materials, though the business lost money and contributed to William's persistently poor finances.
Despite the upheaval of her early years and little formal schooling, Mary received a broad, idiosyncratic, and remarkable education from her father, who tutored her, took the children on educational outings, and exposed her and her siblings to some of the age's most important minds, including the poet Samuel Taylor Coleridge, the scientists Humphry Davy and William Nicholson, and even the former U.S. vice president Aaron Burr. Mary had a governess and a daily tutor and spent six months at boarding school in Ramsgate. She also had access to her father's extensive library, including the manuscripts of his children's books on Greek and Roman history for his publishing venture's Juvenile Library. At the age of fifteen, Mary's father sent her to stay with the Dissenting family of the radical William Baxter near Dundee, Scotland. Mary loved the Scottish countryside and the companionship of the family's four daughters, returning in the summer of 1813 for another ten months.
It was around this time that Mary met the poet Percy Bysshe Shelley. By the spring of 1814 he was estranged from his wife, Harriet, and was a regular visitor to William Godwin, whom the young poet regarded as a political mentor. Soon, after a series of clandestine rendezvous by her mother's grave in St. Pancras Churchyard, Percy and Mary fell in love. She was only sixteen, he just twenty-one but still married, and to Mary's surprise—though probably to few others'—her father did not approve. So, on July 28, 1814, she and Percy eloped to France, with her stepsister Claire in tow. Making it as far as Lucerne, Switzerland, where they ran out of money, they returned to England via the Rhine river and through Holland, arriving in Kent on September 13, 1814.
By this time Mary was pregnant, she and Percy were penniless, and her father refused to acknowledge her. On February 22, 1815, she gave birth to a baby girl two months prematurely. The infant was not expected to survive and died just two weeks later. Mary lapsed into a deep depression following the death of her daughter, an experience that would always haunt her. Recovered somewhat by the summer of 1815, she became pregnant again by Percy, whose financial situation had improved temporarily following the death of his grandfather, Bysshe Shelley. Together they rented a cottage at Bishopsgate, on the edge of Windsor Great Park west of London, where Mary delivered a healthy baby boy, William, on January 24, 1816. The boy was named for her father and soon nicknamed "Willmouse."
In May 1816 Mary, Percy, their son, and Mary's stepsister Claire set out on their fateful trip to Switzerland, to spend the summer with Lord Byron, with whom Claire had recently had an affair, and by whom she was now pregnant. Along with Byron's physician and friend, John Polidori, they relaxed at Byron's villa, reading, writing, boating on the lake, discussing philosophy and science, and telling stories late into the night. By the time they returned to England in September, Mary had begun work on her signature work, Frankenstein, which Percy would help edit and encourage her to expand beyond the short story she had originally envisioned.
The fall of 1816 saw great turmoil in Mary and Percy's lives, as first Mary's half-sister Fanny took her own life on October 10, followed in December by the suicide of Percy's wife Harriet. Despite the tragedies—and in part to try to win custody of his children by Harriet—Percy wed Mary, pregnant now with their third child, on December 30 in London. William Godwin was present for the marriage ceremony, ending his rift with his daughter.
In March 1817 the couple moved to a house in Marlow, Buckinghamshire, along with Claire and her infant daughter, Allegra. In September Mary gave birth to a daughter, Clara, and in November they published the journal of their journey to France and Switzerland in 1814 and 1816, along with Percy's poem "Mont Blanc" in History of a Six Weeks' Tour. On January 1, 1818, Mary published Frankenstein anonymously to mixed reviews but strong popular acclaim. Money troubles, however, continued to dog Percy, who often had to leave home for extended periods to avoid creditors. Fearing debtors' prison, the Shelleys left England for Italy in March 1818.
Their years in Italy were spent traveling from place to place, sightseeing, writing, reading, and socializing with Byron and other English expatriates. This period provided them not only with a political freedom of expression not possible at home but the environment in which to create. Percy composed many of his most important works while living itinerantly in Italy, including his elegy for John Keats, Adonaïs (1821), a long poem he considered his best. Mary also wrote two more books, the historical novel Valperga (1823) and the autobiographical novella Mathilda (published posthumously in 1959), as well as the children's plays Proserpine and Midas. Their idyll was shaken, however, by the deaths of both their children from illness—Clara in Venice in September 1818, and William in Rome in June 1819. Once again, Mary faced the loss of her young children, finding solace in little but her writing. Once more, however, Mary was buoyed by the birth of another child, her fourth, on November 12, 1819—a son named Percy Florence. Tragedy and turmoil were never far from the Shelleys, however. In the summer of 1822 Mary and Percy moved again with friends to Villa Magni, near the town of San Terenzo in the Bay of Lerici, on the Italian Riviera. On July 8, after visiting Lord Byron and Leigh Hunt in Livorno, Percy and Edward Williams set out to return to Lerici in their sailboat but never reached their destination. Caught in a storm, Percy and Edward drowned, their bodies washed ashore ten days later near Viareggio, where they cremated Percy Shelley's remains on the beach. Mary had lost the love of her life.
For the next year Mary lived with Leigh Hunt and his family in Genoa, writing and transcribing Byron's poems. In July 1823 she returned to England with her son, Percy Florence, at first living with her father and stepmother. A small allowance from Sir Timothy Shelley, her father-in-law, enabled her to live on her own. When, in 1826, Percy Florence became the sole heir of the Shelley estate, her allowance was increased by Sir Timothy, who refused to ever see Mary. Timothy, as many others in society did, ostracized Mary, deeming her extramarital affair with Percy Shelley unforgivable, not to mention her radical social and philosophical views. Throughout it all, she continued to write, publishing her apocalyptic novel The Last Man in 1826, followed by Perkin Warbeck (1830), Lodore (1835), and Falkner (1837). She contributed five volumes on European authors to Dionysius Lardner's Cabinet Cyclopaedia and wrote stories for women's magazines. In 1831 she published a revised edition of Frankenstein for Henry Colburn and Richard Bentley's Standard Novels series, including a new introduction recounting the story of the novel's inception. She also edited the Poetical Works (1838) of her late husband, further cementing Percy Shelley's reputation as one of the great Romantic poets.
Mary was faithfully devoted to her surviving son, Percy Florence, and ensured that he attended Harrow and then Trinity College at Cambridge, where he graduated in 1841. Travelling together to Europe around this time, Mary published an account of their journeys in Rambles in Germany and Italy in 1840, 1842 and 1843 (1844). After her son married Jane Gibson St. John in 1848, she went to live with them in the Shelleys' ancestral home of Field Place in Sussex as well as Chester Square in London. The later years of her life were marred by illness, which often prevented her from writing or even being able to read. Mary Shelley died on February 1, 1851, in London at the age of fifty-three from a possible brain tumor. A year to the day after her death, her son and daughter-in-law opened her box-desk and found a lock of her mother's hair along with those of her dead children, a journal she had shared with her husband, and a copy of Percy's Adonaïs with a page folded around a piece of silk containing some of his ashes and a remnant of his heart.