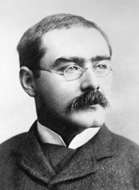 Rudyard Kipling was born on December 30, 1865, in Bombay (Mumbai), India, to Alice Kipling (née MacDonald) and John Lockwood Kipling. Named for the town and lake in Staffordshire where his parents had courted, Rudyard would spend the first five years of his life in Bombay, where his father was a professor of architectural sculpture at the recently founded Sir Jamsetjee Jeejebhoy School of Art (now the oldest art institution in Mumbai, commonly referred to as the "Sir J.J. School of Art").
At the age of five, however, Rudyard and his three-year-old sister, Alice Beatrice (called "Trix"), were sent off to England to board with a family who took in children of British nationals serving in India—a common practice at the time. In the coastal town of Southsea, in Portsmouth, the children would now be raised by Sarah Holloway and her husband, Captain Holloway, an officer in the merchant navy. For the next six years, Rudyard endured what he referred to in his autobiography (Something of Myself) as "calculated torture" at the hands of Mrs. Holloway. "Yet," he added, "it made me give attention to the lies I soon found it necessary to tell: and this, I presume, is the foundation of literary effort." This imagined impetus for a career as a storyteller, along with month-long visits to their beloved Aunt Georgiana and her husband, the painter Edward Burne-Jones, at the Grange in London each year at Christmas, sustained Rudyard during his exile from his parents.
But his day-to-day existence was still misery. Once, after having discarded a bad report card from school rather than show it to Mrs. Holloway, Kipling recounted how, after she found out, "I was well beaten and sent to school through the streets of Southsea with the placard LIAR between my shoulders." Finally, young Rudyard suffered a kind of nervous collapse. Upon examination by a doctor, it was revealed that he was severely myopic and needed glasses—which helped explain his underachieving school performance.
Shortly after, in 1877, Alice Kipling returned from India and removed Rudyard and Trix from the Holloways' home. "She told me afterwards," Kipling later recalled, "that when she first came up to my room to kiss me good-night, I flung up an arm to guard off the cuff that I had been trained to expect." In January 1878, Rudyard entered the United Services College at Westward Ho! in Devon, a preparatory school for military service, where he became editor of the school newspaper and formed close friendships he would later immortalize in his story collection Stalky & Co. (1899). Upon graduation in 1882, with his parents unable to afford to send him to Oxford, he was brought back to the country of his birth in October, where his father had secured for him a job as assistant editor on a small paper in Lahore (now in Pakistan), the Civil and Military Gazette.
Reunited with his mother and father and back in the land that he loved, Kipling was happy, never more so than when the family took a month's leave each summer in the mountainous summer capital of Shimla, east of Lahore. Back at the paper Kipling worked tirelessly; and he loved nothing better than to write. In addition to his writing and editing duties at the paper, he wrote poetry in his spare time, publishing his first collection of poetry, Departmental Ditties, in 1886. As one former colleague later recalled of him, "In the hot weather, when he wore only white trousers and a thin vest, he is said to have resembled a Dalmatian dog more than a human being, for he was spotted all over with ink in every direction." Between November 1886 and June 1887, Kipling penned thirty-nine stories for the Gazette, most of which he published in his first prose collection, Plain Tales from the Hills (1888).
By the end of 1887, he had been transferred to the Gazette's sister paper in Allahabad, the Pioneer. But Kipling kept up his prolific output, publishing six more compilations of short stories in 1888, including The Phantom Rickshaw and Wee Willie Winkie, while continuing to write many sketches for the Pioneer that would later be collected and published in book form—all before he turned twenty-three years old.
After leaving the Pioneer and selling the rights to many of his stories in 1889, he decided to set out with his stake for the literary capital of the English-speaking world: London. He did it by the most circuitous route possible, heading east and stopping along the way in Rangoon, Singapore, Hong Kong, San Francisco, and more than a dozen other places throughout the U.S. and Canada (including a visit to Mark Twain in Elmira, New York), before crossing the Atlantic and landing in Liverpool.
Upon settling in rooms on Villiers Street in London, beside Charing Cross station and overlooking the Thames, Kipling hit his stride as an author, becoming one of the greatest literary sensations of the nineteenth century. His published tales and poems were embraced by the mass of readers for his common language, sense of rhyme and rhythm, and his pro-British imperialism—the same characteristics his critics disdained. Kipling's sudden success brought him into contact with many people in the literary world, including an American publisher, Wolcott Balestier, who befriended him and collaborated on a novel, The Naulahka. The book was one of Kipling's few misfires during this period, but the friendship led to an introduction to a significant figure in his life, Balestier's sister, Caroline (called "Carrie"). The two became close, and shortly after Balestier died suddenly of typhoid fever in December 1891, Kipling proposed to Carrie, cutting short a voyage through South Africa, Australia, New Zealand, and India. The couple married in January 1892 and settled near Carrie's family home in Brattleboro, Vermont.
Residing at first in a small cabin dubbed "Bliss Cottage" and eventually building a larger home nearby called "Naulakha" (in honor of his collaboration with Wolcott, and correcting that title's misspelling), Kipling wrote many of his most successful, enduring, and beloved works while in Vermont. In the winter of 1892, under several feet of snow, he formed the idea that would make up the bulk of The Jungle Books—the stories and poems about Mowgli, a foundling boy raised in the Seeonee hills of India by wolves, a wise black panther named Bagheera, and a gruff but lovable bear called Baloo. The stories were published in a variety of periodicals from 1893 to 1894, the first seven of which were collected, each with a poem as coda, in The Jungle Book in 1894. Another eight stories and poems followed the same pattern and were put out in The Second Jungle Book in 1895. Kipling's father, retired in 1893, contributed many of the illustrations and decorations that adorned each volume. In addition to the eight Mowgli stories in the two books were other tales, like "Rikki-tikki-tavi" and "The White Seal," that would become favorites of the young readers who devoured his exotic, action-filled adventures.
Though Kipling was starting to become known as one of the most-loved children's authors of his day, during his time in Vermont he also wrote the novel Captains Courageous, the short-story collection The Day's Work, and the poetry compilations The Seven Seas and Barrack-Room Ballads, which included the poems "Mandalay" and "Gunga Din."
This fertile period in Kipling's career also saw the birth of the couple's first two children, Josephine, born in December 1892, and Elsie, born in February 1896. The Kiplings loved New England and had built an enviable life in their home, Naulakha, with Kipling's father making the voyage to visit, as well as the author Arthur Conan Doyle. Kipling also became close friends with Theodore Roosevelt, then the under secretary of the Navy. But in 1896 a rather public dispute with Kipling's alcoholic brother-in-law, Beatty Balestier, and a political situation pitting Great Britain against the United States combined to make life in Vermont for the very private Kipling unendurable. The family returned to England, first in Torquay, on the southern coast of Devon, then to Rottingdean in East Sussex near the home of Kipling's parents, before finally settling in 1902 in a rural East Sussex house called "Bateman's"—a country manor situated in Burwash on thirty-three acres and built in 1634. It would remain Kipling's home for the rest of his life.
Kipling's only son, John (called "Jack"), was born in August 1897. But on a trip to the U.S. in 1899, Kipling and his daughters Josephine and Elsie all contracted pneumonia. Kipling and Elsie recovered, but Josephine died a few weeks later, in March of that year. The loss devastated Kipling, a devoted and loving father to all of his children.
In spite of it all, Kipling continued his prodigious literary output, publishing story collections, poems, and, increasingly, articles on current events, including a two-week stint as a correspondent in South Africa in 1900, where he wrote in support of the British cause during the Boer War (1899–1902). The Kiplings had taken to visiting South Africa each winter during this time. Some of his poems, too, reflected his imperial worldview, such as "The White Man's Burden" and "Recessional."
In 1901 Kipling published what many consider his finest novel, Kim, the story of an orphaned Irish boy raised in the streets of Lahore who eventually becomes enmeshed in the espionage of the "Great Game," the machinations between Great Britain and Russia for political dominance in Central Asia. A year later he published a collection of children's stories to rival The Jungle Books. The whimsical and imaginative fables in Just So Stories, written for and often read aloud to his own children, attempt to explain the origins of things, as in "How the Camel Got His Hump," "How the Leopard Got His Spots," and "The Cat That Walked by Himself."
For Kipling, the first decade of the twentieth century saw him at his most popular and widely admired. In 1907 he was awarded the Nobel Prize in Literature, the first English-language writer to earn the honor. Among many other published works during the years before the First World War, he penned perhaps his most beloved poem, "If—":
If you can keep your head when all about you
Are losing theirs and blaming it on you,
If you can trust yourself when all men doubt you,
But make allowance for their doubting too;
If you can wait and not be tired by waiting,
Or being lied about, don't deal in lies,
Or being hated, don't give way to hating,
And yet don't look too good, nor talk too wise:
If you can dream—and not make dreams your master;
If you can think—and not make thoughts your aim;
If you can meet with Triumph and Disaster
And treat those two impostors just the same;
If you can bear to hear the truth you've spoken
Twisted by knaves to make a trap for fools,
Or watch the things you gave your life to, broken,
And stoop and build 'em up with worn-out tools:
If you can make one heap of all your winnings
And risk it on one turn of pitch-and-toss,
And lose, and start again at your beginnings
And never breathe a word about your loss;
If you can force your heart and nerve and sinew
To serve your turn long after they are gone,
And so hold on when there is nothing in you
Except the Will which says to them: "Hold on!"
If you can talk with crowds and keep your virtue,
Or walk with Kings—nor lose the common touch,
If neither foes nor loving friends can hurt you,
If all men count with you, but none too much;
If you can fill the unforgiving minute
With sixty seconds' worth of distance run,
Yours is the Earth and everything that's in it,
And—which is more—you'll be a Man, my son.
Written as advice for his now-adolescent son, Jack, the poem evinces the stiff upper-lip of Victorian English stoicism and remains one of the British public's favorite poems to this day.
During the lead-up to and opening months of World War I in 1914, Kipling was a staunch and vocal advocate of British involvement in the conflict and antipathy toward Germany, particularly following the invasion of Belgium and the atrocities committed by the German army on the civilian population. Though both Kipling and his son felt strongly about the necessity for young, able-bodied men to join the fight, Jack (like his father) was extremely near-sighted, even with the aid of eyeglasses. Jack failed medical examinations with both the Royal Navy and British Army due to his poor eyesight. But, with pull from his father's Army connections, he was accepted as a second lieutenant in the Irish Guards. Shortly after completing his training, in September 1915, in his first action at the front in France, Jack was injured in the face by a mortar blast and was last seen stumbling blindly through the mud as the Battle of Loos raged on around him. The Army reported him injured and missing in action. His body was never recovered.
Kipling and his wife, Carrie, continued to hope in vain that their son would turn up and searched field hospitals, interviewed comrades in his battalion, and posted a notice in The Times in October 1915, searching for clues to Jack's fate. In Kipling's 1916 poem "My Boy Jack," which prefaced his book Sea Warfare, the narrator implores, "Have you news of my boy Jack?" The anonymous response, "Not this tide....Not with this wind blowing, and this tide," is repeated to the parent's plaintive inquiries, until it ends with:
Then hold your head up all the more,
This tide,
And every tide;
Because he was the son you bore,
And gave to that wind blowing and that tide!
It wouldn't be until 1917 that John Kipling was confirmed dead, killed in action in Loos.
In that same year, the grieving elder Kipling took on the role of honorary literary advisor to the Imperial War Graves Commission, which erected garden-like monuments marking the graves of British soldiers who died on the Western Front and anywhere else British service members lost their lives in battle. He selected the biblical phrase, "Their Name Liveth for Evermore" to adorn the Stones of Remembrance, and the epitaph "Known unto God" for the gravestones of unidentified soldiers.
After the war, Kipling continued to write and publish, though with less frequency and acclaim than before. His brand of unapologetic patriotism, pro-colonialism, and masculine conservatism were out of fashion in a Europe ravaged by war and economic depression, and he may have become bitter at a world changing in ways he couldn't condone. He spoke out in support of conservative causes and condemned the Labour Party as communists in thrall to Moscow. He continued to warn his countrymen of the evils of bolshevism and, increasingly, fascism and Nazism into the 1930s. Ironically, in many of his earlier books, Kipling had included the swastika symbol above his signature, as below:

Traditionally considered a sacred and auspicious symbol by Hindus and Buddhists, it had been adopted by many Europeans around the turn of the century to denote good fortune, as Kipling employed it. He stopped using it, however, after Hitler appropriated the symbol for his Nazi party early in the 1920s.
Kipling drafted his autobiography, Something of Myself, in the fall of 1935, but passed away before it could be published (in 1937). Days after suffering an intestinal hemorrhage and undergoing surgery, he died on January 18, 1936. At his funeral service, in which he lay in a marble casket covered by the Union Jack, he was attended by pallbearers who included his cousin, British prime minister Stanley Baldwin. Kipling's body was cremated in London, and his ashes were interred in Poets' Corner at Westminster Abbey, beside the graves of Charles Dickens and Thomas Hardy. Though his posthumous literary legacy was colored by his political beliefs in the years that followed, with the passage of time the gentleness, humanity, courage, and playful inventiveness of his many stories and poems endures. His major works—which have never gone out of print—continue to be read and enjoyed by young and old, as well as to inspire new adaptations for the stage and screen well into the twenty-first century.