Sir Arthur Conan Doyle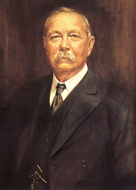 Sir Arthur Conan Doyle was born in Edinburgh on May 22, 1859, the second of nine children by Charles Altamont and Mary Doyle. Though his father's family was prominent, Charles was a civil servant who eventually lost his position and descended into alcoholism. Being poor, Arthur was educated at home by his mother, who told him tales of his illustrious ancestors going back to the Plantagenets.
Young Arthur was sent to Hodder, a Jesuit preparatory school in Lancashire, at the age of nine. It was during his time with the Jesuits, at Hodder and later at Stonyhurst, that Conan Doyle developed his skepticism and considered himself an agnostic by the time he left. After a year studying with Jesuits in Austria, Conan Doyle returned to Edinburgh to study medicine at the university from 1876 to 1881. At Edinburgh, he studied under Dr. Joseph Bell, a remarkably astute physician upon whom Conan Doyle would later base much of Sherlock Holmes's deductive abilities. During his time as a student, Conan Doyle took various jobs to provide for his family, including serving as ship's doctor on a whaling ship out of Greenland. His letters to a friend about his experiences at sea prompted his friend to tell him that he was such a colorful writer, he really ought to do it for pay.
Conan Doyle wrote his first story, "The Mystery of Sasassa Valley," about a treasure hunt in South Africa and influenced by his favorite writers, Edgar Allan Poe and Bret Harte. To his surprise, the story was accepted for publication by a popular Edinburgh magazine, Chamber's Journal, and it ran anonymously there in 1879. Between this time and 1887, Conan Doyle published thirty short stories.
During this time, he established his medical practice, first in Plymouth, then in Southsea, where he met and married Louise Hawkins, the sister of one of his patients. It was also during this time that the author developed an interest in psychic studies, or "Spiritualism."
In 1887 Conan Doyle published his first story about Sherlock Holmes, the novel A Study in Scarlet, told in the first-person narration of Holmes's friend, Dr. John Watson. Included in Beeton's Christmas Annual, the story did well. Although he continued to write other stories, Conan Doyle returned to the detective and his sidekick with his second Holmes novel, The Sign of Four, published in Britain and the U.S. for the first time. It was around the same time, in 1891, that the author began contributing Sherlock Holmes stories to the Strand Magazine on a monthly basis, which made the idiosyncratic detective famous both in the UK and America and led to the publication of two collections of short stories, The Adventures of Sherlock Holmes and The Memoirs of Sherlock Holmes in 1892 and 1893, respectively. The last story in Memoirs, "The Final Problem," first published in the Strand, had Holmes apparently going off a cliff over the Reichenbach Falls in Switzerland, in the embrace of his archnemesis, Professor Moriarty. Although readers around the world were shocked and distraught, Conan Doyle turned away from Sherlock Holmes with no regrets.
Despite Holmes's reported passing, however, he did return, in flashback at least, for the 1901 novel The Hound of the Baskervilles. (The story was a reminiscence from before "The Final Problem"—the stories were never related chronologically, after all.) With the success of Hound, which many consider his greatest work, and his other accomplishments, Conan Doyle received a knighthood in 1902. Finally, in 1903 Holmes made his true return in a new Conan Doyle story titled "The Empty House." In this tale, it was revealed that Holmes hadn't died in killing Moriarty, but had gone into hiding to escape the vengeance of the villain's associates. The author continued to publish new stories in the pages of the Strand from 1903 to 1905, collecting them in a book, The Return of Sherlock Holmes, in 1905.
After a thirteen-year fight with tuberculosis, Conan Doyle's wife, Louise, died in 1906. They had had two children together, Mary Louise and Kingsley. The next year, he married Jean Leckie, with whom he'd been in love since 1897. They had three children together, Denis, Adrian, and Jean. The author wrote four more Sherlock Holmes stories from 1910 to 1913, and in 1912 introduced Professor George Challenger, the protagonist in the adventure The Lost World. Challenger returned for two more books, The Poison Belt (1913) and The Land of Mist (1926), and two short stories published after Mist. The last two Sherlock Holmes novels appeared in 1915 (The Valley of Fear) and 1917 (His Last Bow), but several more stories appeared over the next ten years, which were collected in the last Holmes volume, The Case-Book of Sherlock Holmes (1927). By this time, Conan Doyle was a fervent believer in psychic phenomena and devoted himself to promoting Spiritualism, which he then considered his most important work. He died at home on July 7, 1930.
Sherlock Holmes Novels & Story Collections

George Challenger Novels

The Lost World

(1912)

The Poison Belt

(1913)

The Land of Mist

(1926)